In a digital era in which everything is just a click away and you can Google everything, which is the most mentioned horse in history? Which is the horse that made more rivers of ink flow in those not-so-distant times when the press was printed on paper? If we were to look back over the last 15 years, the place of honour would undoubtedly go to Totilas, but if we go back as far as our memory takes us, the 'platinum medal' would go to Seabiscuit, very close to Secretariat, both of them racehorses.
Seabiscuit was, is and will undoubtedly always be an important figure. He was born in May 1933 (Swing On x Man O' war), and passed away fourteen years later. He was a fast American thoroughbred. He lived during the Great Depression (also known as the Great Crash of 1929), a time of severe global financial crisis that lasted until the end of the 1930s. At these hard times, he became a symbol of hope and excitement for many Americans. Given the country's situation, cutbacks were constant and the order of the day, and the American upper classes dispensed with many luxuries, but continued to maintain their horse racing tradition. Horse racing was king among the American aristocracy, and it was necessary to attend top race meetings in order to maintain their place among the elite. As the saying goes, 'look the part, be the part'. There were families who were losing everything, but tried to keep up appearances and continued to invest in horse racing, even though their homes lacked the basics.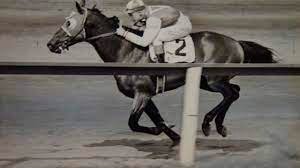 Looking at his early days, it was hard to envisage the horse that Seabiscuit would later become. He appeared to be a lazy, gluttonous horse with little potential. It was Jim Fitzsimmons who initially put his faith in him, spotting some potential. After a tough start, and by the time he was two years old, he had run 35 races before winning for the first time.
At the age of three, he began to make significant strides in his sporting prowess, ridden by jockey Tom Smith. It can be concluded that 1937 was his golden year, winning 11 of the 15 races he contested. That year, he was also proclaimed the leading earner in the United States. He travelled around the United States aboard a train car, from race to race. He had become a star! He was the emblem of struggle. He was the symbol of hope. He was a regular in the press. He grabbed all the headlines at the time.  At a time when the meaning of the word 'marketing' was unknown, Charles S. Howard, his then owner, marketed merchandising with the name and image of Seabiscuit, taking full advantage of his animal's great fame.
At five years old, his career blossomed, with George Woolf now in the saddle.
He retired in April 1940, at which time he was undoubtedly the highest earning racehorse of all time. A bronze statue, a full-scale replica of his anatomy, was erected during the 2000s at Ridgewood Ranch, where he was put out to pasture and which was his final resting place. Today, in the 21st century, he continues to be hailed in the United States as a symbol of that hard time.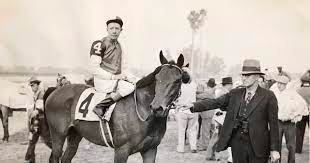 Seabiscuit's story has twice been turned into a film. First in 1949, entitled 'The Story of Seabiscuit', and then in 2003 under the simple title of 'Seabiscuit', the latter being the adaptation of the 2001 book written by Laura Hilenbrand, 'Seabiscuit: An American Legend'
We work with many racehorses, and although we can't promise they will be like Seabiscuit, we can ensure that they will be very well supplemented, making it easier for them to achieve their full potential.